ORGANIZATION DIAGRAM – HUMAN RESOURCES
FUDESO – Future Development Solution Joint Stock Company owns a large number of staff having experience and dedicated to works. Company staff always endeavor to improve their knowledge in the field of wastewater treatment as well as some soft skills such as communication skill and professional working methods. Especially, thanks to the transfer of Jokaso technology from Kubota Company - Japan, technical staff of Fudeso Company have made great efforts to study, apply and improve the technology suitable to practical conditions in Vietnam. We always try to update, study and develop sustainable technology in wastewater treatment. We always find ways to apply advanced solutions appropriately and choose the most optimal way to make your work environmentally friendly and be able to meet all criteria. At the same time, this can help Fudeso become one of the reliable units in wastewater treatment services, Composite tanks processing and automatic control system provisions.
ORGANIZATION DIAGRAM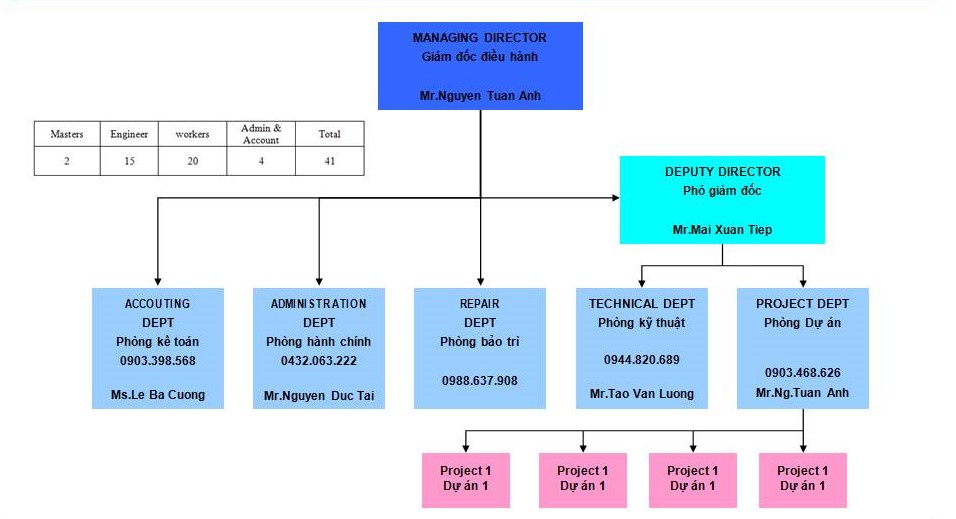 Currently, there are 41 official employees in Fudeso, of whom 2 emloyees obtained Master Degree, 15 engineers got Bachelor Degree and 4 managers in departments have long experience in environment and wastewater treatment. Competent staff is the most precious property of our Company. Over 95% of staff in our Company graduated from university specialized in environment and other fields. Staff in our Company always strive, practice and improve their professional qualification in order to meet the higher and higher demands of customers.

Additionally, Fudeso also owns a team of experienced consultants in the field of analysis and waste water treatment environment, including 1 Professor, 2 Associate Professor, Doctor and 1 Doctor. Especially, there is a 1 Swiss Professor, a consultant in environment, design and installation of wast water treament system. Thanks to Jokaso technology application from Japan, we always ensure the quality of outputs meeting all testing standards. Create a chance to cooperate with us, we will bring you the greatest belief and satisfaction.